Designing your Home for a relaxed Holiday Season.
Warning… Your guests may never leave!
We are approaching that time of year... The Thanksgiving-Christmas holiday season; one rolls into the other so quickly, we hardly have time to blink.
Guess what that means for some people? Time for that final push on their home renovation projects before all their guests arrive.
Big family holidays are an opportunity to showcase the latest changes to the home and like most projects, a lot of details are left to the last minute. This means a big rush to put in that new stove, finish the tiling or something even more demanding, like completing a total bathroom renovation.
With the help of a professional, the homeowner manages to finish all the changes they desired in the nick of time – good for you!
Can they rest? Not just yet, it's now time to play host. Cleaning, prepping meals, entertaining and making sure everyone else has a wonderful and memorable experience.
And contrary to their spirit, the holidays can actually be a source of major stress; especially for women*.
A house full of guests, family politics, demands for hosting duties can all be too much. What can be done to minimize the chaos?
Here's the recipe for the host:
Well why not enjoy your recently renovated bathroom? First and foremost, there is a lock on the door. Sure, the house may be falling apart as your brother's kids turn the couch into a wrestling area but all of that noise can be washed away by immersing yourself in a therapeutic bath from BainUltra.
Your guests first marveled at the luxurious and sleek stone finish of BainUltra's Monarch Grand Luxury collection in your master bath, but do they realize the power of the therapy beneath it? Fortunately, you do.
When the stress of the holidays gets too much, remember you have an oasis of comfort and relaxation just a few steps away in your own home. Or when the house empties out, perhaps it's time for your holiday, an evening of pampering in your home spa.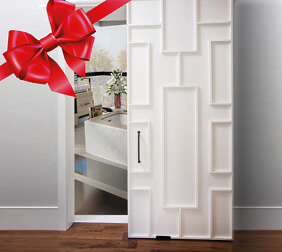 It's not just for you. Have a relative with the sniffles or back pain from the flight or drive to your place? Or a hyper-active child that just needs to be calmed down? Why not offer them the experience of bathing in a beautiful and soothing bath from BainUltra's Monarch Grand Luxury collection?
Just be warned; your guests may enjoy it so much they may never leave!
source: https://www.apa.org/news/press/releases/2006/12/holiday-stress.pdf